I submitted my painting "A Night Time Story" to this year's Lethbridge 10000 art award. Guess what? I made the cut and am now an exhibition finalist.
For those of you who don't know, the Lethbridge 10000 is the largest "small scale" art prize in the country. Small scale means the artwork cannot measure any more than 61cm in either dimension. I have already achieved my goal by becoming a finalist. Needless to say I am over the moon and anything else from here is a bonus!
Lethbridge 10000The Lethbridge 10000 is hosted at the Lethbridge Gallery in Brisbane and has been running every June since 2010. Judging is based on 3 criteria: creativity; originality; and skill. First prize is $10,000 and there are 3 other minor prizes for each of the judging criteria. I have my fingers crossed 🙂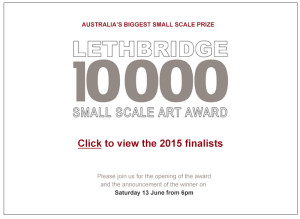 The exhibition starts this Saturday 13-June-2015 with an opening night event where the winners will be announced. Yes I will be attending the opening night.
The exhibition runs over 2 weeks from 13-June-2015 to 28-June-2015. All the artwork on display at the gallery is for sale. So if you are local to Brisbane I suggest you visit the Lethbridge gallery over the coming weeks.
You can always view the exceptional artwork from all the talented artists online at the Lethbridge Gallery website. See if you can find mine and let me know what you think.
I'd like to wish my fellow finalists good luck and I hope to see you there at the opening night.